petMOD® INTESTINAL R
Complementary Feed for pet rabbits
and small rodents (Hamsters, Guinea Pigs,  Chincillas)
petMOD® INTESTINAL R was formulated for the digestive system of rabbits and small rodents.
Its innovative components encourage the correct resumption of digestion and normal peristalsis when used during typical pathological conditions
such as gastrointestinal stasis, enteritis and all those pathologies that lead to an alteration in the physiological peristalsis of lagomorphs.
It also encourages the return to correct levels of physiological intestinal microbiota.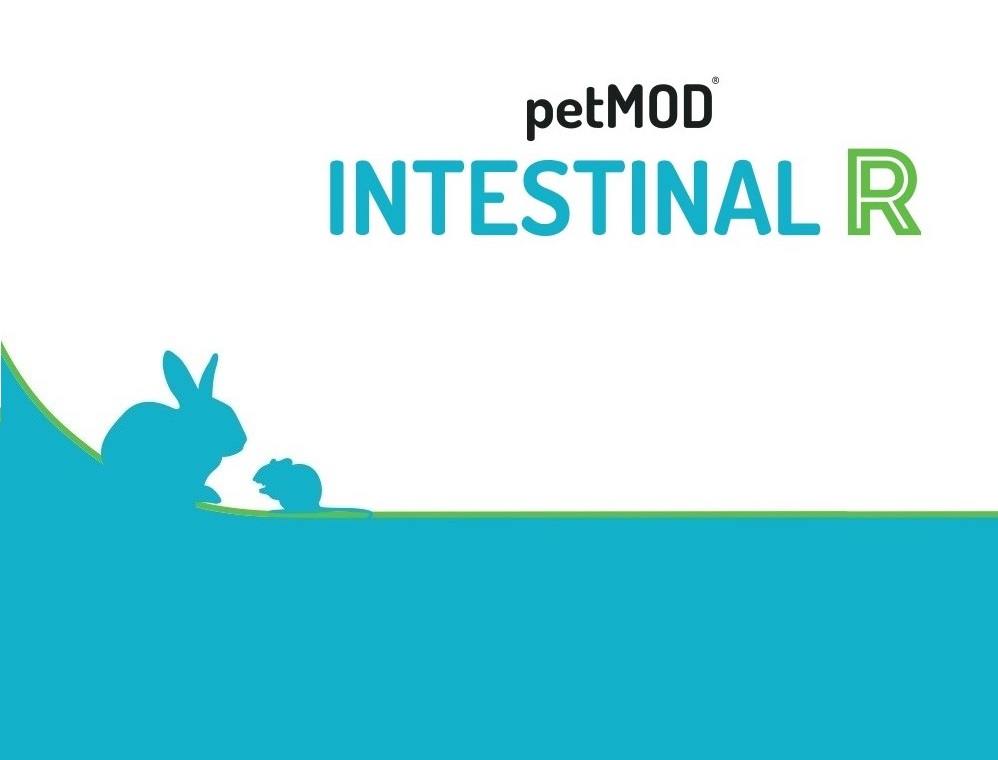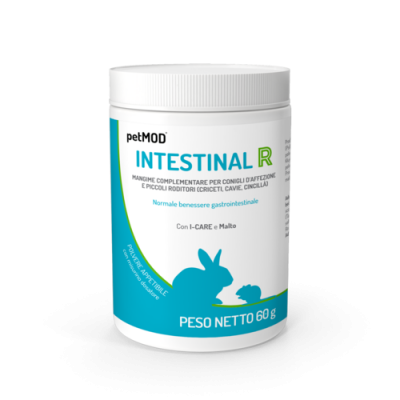 COMPONENTS
Products obtained from the processing of herbs (Psyllium- Plantago psyllium-seed cuticle in powdered form), Yeasts (I-CARE – Kluyveromyces fragilis hydrolysed yeast) 20%, powdered barley malt 14%, dried carrot powder, dextrose, yeast products (PETMOD® – 5'-Nucleotides) 2.5%, maltodextrin.
ADDITIVES
Organoleptic additives: botanically defined natural products: Artichoke (Cynara scolymus L.) extract 7,500mg/kg, Dandelion (Taraxacum officinale Wiggers) root solid extract 5,500 mg/kg, Boswellia (Boswellia serrata Roxb. ex Colebr.) extract 5,000 mg/kg
Technological additives: E551b colloidal silica.
METHOD OF USE AND DAILY RATION
Give the animal 2 measuring spoons of product (equivalent to 1 g) for every 3 kg of the animal's live weight, mixing it into its preferred food. The daily
ration of product can be mixed in a 1:3 proportion with water in order to create a preparation that can simply be introduced into the animal's mouth
using a syringe. Complete the daily ration with the usual foodstuffs. Always ensure that the animal has access to fresh water.
COMPONENTS
PER TWO 500-MG MEASURING SPOONFULS
(1 GRAM)
I-CARE hydrolysed yeast
200 mg
Barley malt
150 mg
petMOD® – 5'- Nucleotides
25 mg
Artichoke extract
7,5 mg
Dandelion extract
5,5 mg
Boswellia extract
5 mg
| ANALYTICAL COMPONENTS (%): | |
| --- | --- |
| Crude protein | 18,98 |
| Crude fibre | 2,19 |
| Crude fats | 6,2 |
| Crude ashes | 4,06 |
| Moisture | 6,58 |
| Calcium | 0,318 |
| Sodium | 0,218 |
| Phosphorous | 0,562 |